Free* Standard Shipping. $100 Minimum Order. *Perishable items excluded, as they require expedited shipping.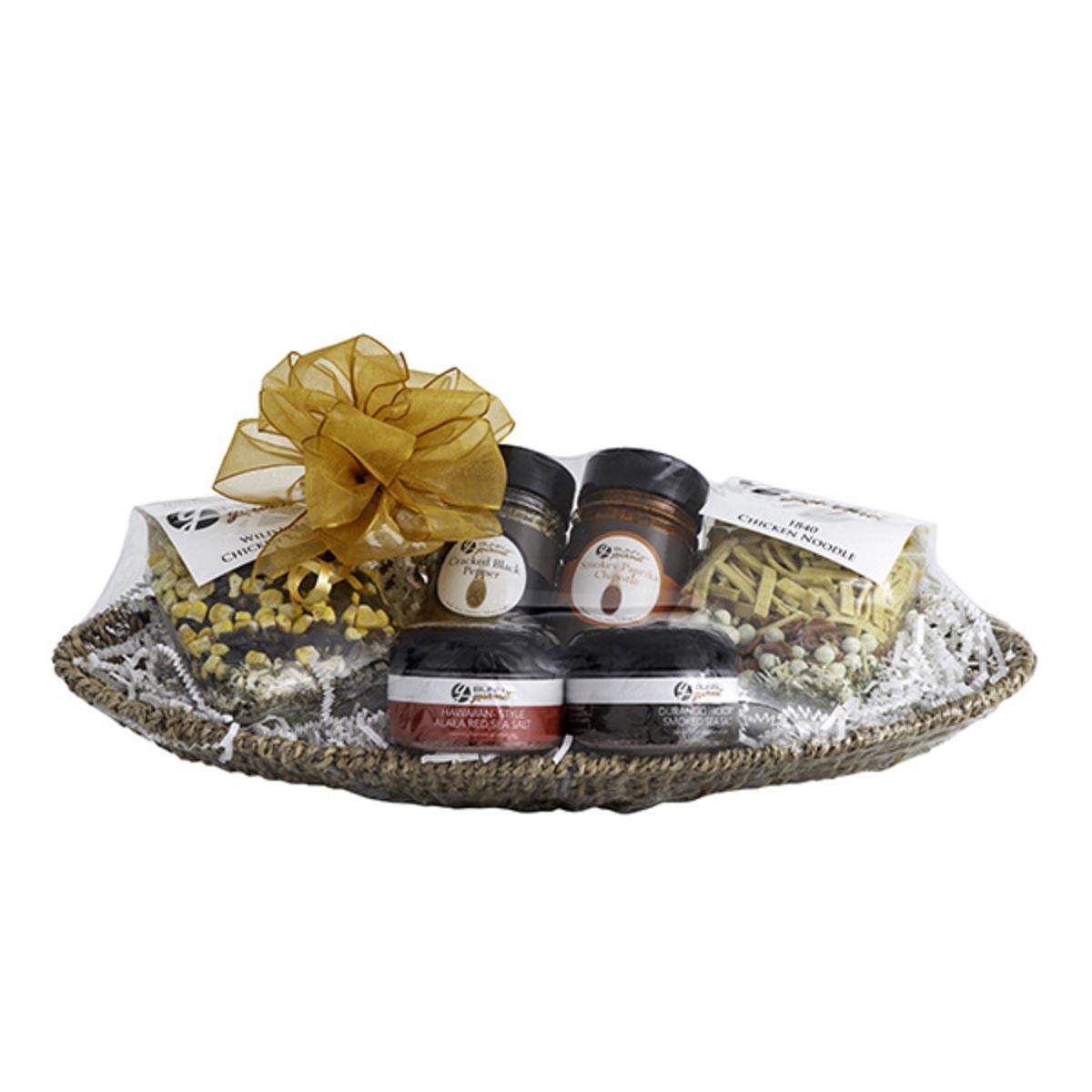 Taste of BUNN Gourmet Gift Basket
Taste of BUNN Gourmet Gift Basket consists of:
(1 jar) Honey Aleppo Pepper: both sweet and spice with great flavor depth. The seasoning caramelizes as you cook and adds a spicy-sweet kick. Recommended for Chicken, Fish, Pork and Potatoes.
(1 jar) Cracked Black Pepper Rub: less salt than most grilling rubs. Large grain size of black peppers, onion and garlic - recommended for Steak, Pork, Chicken, Salmon and Cod.
(1 jar) Espresso Brava Salt: rich and unique, this salt is an ideal inclusion in gourmet food products and chocolate confections. It adds a textural medium-grain crunch and a pop of robust flavor. It is perfect for spice blends and grilling rubs. Try it on BUNN Black Angus Skirt or Hanger Steaks.
(1 jar) Pink Himalayan Sea Salt: mined from ancient sea salt in the Himalayan Mountains, the beautiful, varied coloring is due to the wide variety of trace minerals. The pure flavor makes it a great accompaniment for BUNN Gourmet USDA Prime and Choice Black Angus steaks or veal and lamb chops.
(1 package) Corn Country Chowder: a quick-cooking chowder with a "fresh off the cob" flavor is enhanced by a perfect seasoning blend. Add cooked chicken or seafood to create your customized hearty chowder.
(1 package) Hearty Frontier Vegetable: this rich, colorful medley of freeze-dried vegetables include carrots, green beans, corn and peas, with wonderful spices. Add some canned diced tomatoes and chopped cabbage for a fresh garden taste. For vegetable beef soup, add cooked BUNN Gourmet ground beef.